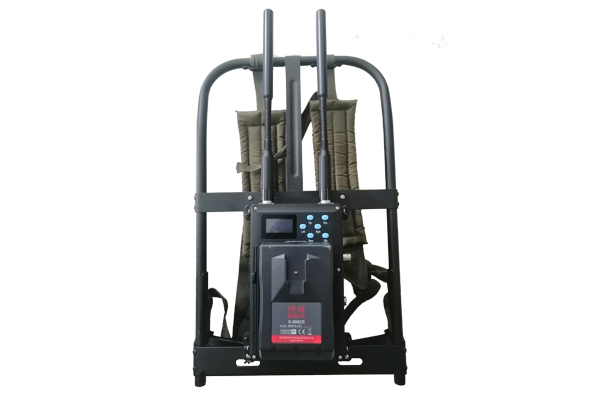 Cofdm Video Transmitter
Backpack Transmitter XK-J213T
XK-J213T Transmitter is a micro HD backpack video transmitter with two-way voice communication is a powerful and stable mobile video transmission system developed by Xingkai Tech. This system supports the functions of video transmission, two-way voice communication and data return. The signal adopts the third-party en/decryption, only the corresponding decrypted receiver can receive and demodulate the signal from the transmitter. Even if the receiving frequency of other receiver is the same as the transmitting frequency of the transmitter, it cannot demodulate the signal transmitted by this transmitter.
The transmitter supports multiple input modes, H.265 encoding and 1080P HD video quality.
The built-in voice Rx and Tx module is used in conjunction with the two-way voice receiver of the command center. The command center can easily contact the front end for intime direct and management. The voice encoding adopts automatic encryption, only the front-end transmitter can receive the center's voice signal.
FEATURES
Non-line-of-sight transmission, long transmission distance, and strong anti – interference capability.
HD image transmission, the highest support 4K.
Low transmission delay.
AES encryption for transmission security and reliability.
Good RF index, high signal-to-noise ratio, and small stray.
Transmission frequency and bandwidth are adjustable.
Wide input voltage range, support DC8V~DC25V voltage input.
Small size.
Low power consumption.
---
Technical Parameters
Item
Parameter
Specification
Power supply
Input voltage
DC8V~DC25V, standard input DC12V
Overall power consumption
≤1.5A@ DC14.4(2W)
Digital baseband
Modulation
COFDM
Constellation
QPSK,16QAM,64QAM
Carrier mode
2K
FEC
1/2,2/3,3/4,5/6,7/8
GUI
1/32,1/16,1/8,1/4
RF
Tx frequency
300MHz~800MHz customizable, step1MHzRBW 40MHz @ 33dBm(2W)
RF bandwidth
2/3/4/6/7/8MHz
Output power
33dBm(2W)
Adjustable attenuator
0~31.5dB
A/V
Video source
HDMI,SDI,CVBS
Resolution
1080p60,1080p50,1080p30,1080p25,1080p24, 1080i60,1080i50,720p60,720p50,720p30,720p25,576p50,480p60,576i50,480i60.
Video bit rate
0.5~18.8Mbps
Audio bit rate
32,48,56,64,80,96,112,128,160,192,224,256,320,384Kbps
Video encode
H.265
Audio encode
MPEG-1 Audio Layer 2
Serial port
Configure port
Standard RS232 level, baud rate 9600
Data port
Standard RS232 level, baud rate 1200~115200
Transmission encryption
AES128、AES256
Transmission delay (end-to-end)
About 260ms
Transmission distance
2~5km @ 33dBm(2W)
Temperature range
Working temperature
-30℃~60℃
Storage temperature
-40℃~75℃
Physical specification
Transmitter size
240*125*46mm
Transmitter weight
≤1.5Kg(not including battery)
Voice receiver
Voice receiver frequency
840~845MHz
Voice receiver sensitiveness
≤-116dBm
Speech coding rate
9600bps
Frequency stepping
25KHz
Related Products