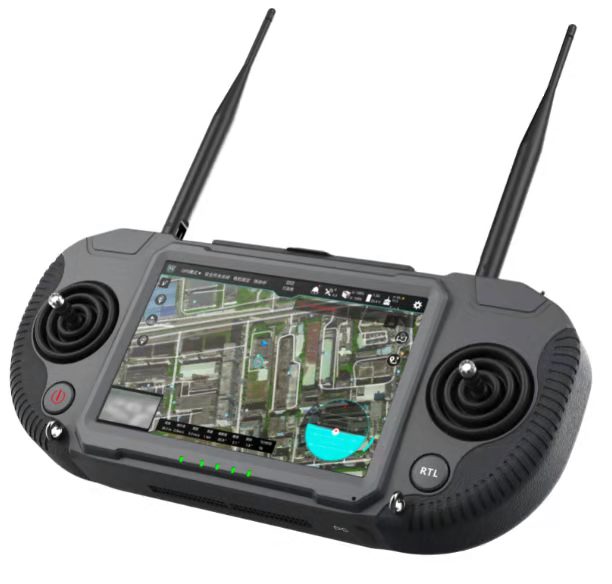 FPV RC Video Controller
XK-F10 hand held GCS
Adopts a six-core 64-bit 2.0GHz high-performance processor, is equipped with Android7.1 operating system
1- Built-in ground station control software for remote control of drones, payloads, route planning, drone status and real-time imagedisplay
2- Integrated large-capacity lithium battery with endurance up to 5hours
3- Equipped with 7-inch 1920*1200 resolution full HD high-brightness LCD screen, brightness up to 1200nit
4- Support HDMI2.0 real-time output 4K@60f image and USB3.0 high-speedinterface
---
Parts
Front Side Parts
​
[1] Antenna: transmittingdata(Radio/Video);
[2] 7 inch LCD screen: operation interfacedisplay;
[3] Antenna: transmittingdata(Radio/Video);
[4] [6]Flying Joystick: control the attitude and throttle of thedrone;
[5] On/Off button;
Shortly press the power button once and then press and hold until the four battery indicator lights are all on to turn on the power; Shortly press the power button once and then press and hold the four power indicator lights to turn off;
[7] One-Key return button: long press to trigger the return mode, and the button lights up red, shortly press to cancel the returnmode;
[8] Strap hook: used with thestrap;
[9] Status indicator: Indication of the system operationnormality
When the status indicator flashes green, it indicates that the system is running normally and is not charging. When the status indicator flashes blue or white, the system is running normally and charging. When the status indicator is steady blue,it is indicating that the system is in charging and while the system is being turned off;
[10] Battery indicato;
The four battery indicators represent approximately 100%, 75%, 50%, and 25% of the remaining battery capacity. At the same time, the ground station software interface will display the exact percentage of power. When the power percentage is less than 10%, low voltage alarm will appear on the interface of the ground station software.
Lower Side Parts
​
[11] Fan outlet: heat outlet, do notblock;
[12] DC Charging Port: Charging through standard adapter;
Back Side Parts
​
[13] Handle;
[14] Photo button: short press to trigger photo;
[15] [18] CustomButton;
[16] Cooling fan air inlet: fan air inlet, do notblock;
[17] Recording button: short press once to start recording; short press again to endrecording;
Upper Side Parts
​
[19] Gimbal heading dial: adjust the heading angle of the Gimbal; [20][28]Gimbalzoomdial:Adjustthegimbal&camerazoomfactor.
[21] Flight mode lever: ①H Gear is in the fixed height mode;②G Gear is reserved;③A Gear is GPSmode;
[22] Micro SIM: Reserve function (optional 4 G version);
[23] USB interface: for external U disk and other devices for data access;
[24] HDMI: external display, copyscreen;
[25] Micro SD: for external storage and firmwareupgrade;
[26] UART serial port: reserved function;
[27] Custom Button;
[29] Gimbal tilting dial: adjust the pitch angle of thegimbal;
Related Products