What is COFDM?
A single digital signal is simultaneously split across 1,000 or more signal carriers using the telecommunications modulation technique known as coded orthogonal frequency-division multiplexing (COFDM HD Video Transmitter). In order to prevent interference, the signals are delivered at right angles to one another, or orthogonally.
Advantage of COFDM
It has outstanding "diffraction" and "penetration" properties, making it appropriate for usage in non-viewing and blocking situations like cities, suburbs, and buildings. It can be used on platforms like cars, ships, helicopters, and drones since it is appropriate for high-speed transmission.
The COFDM technology, which can be installed on cars, ships, helicopters, drones, and other mobile platforms, is particularly ideal for fixed-mobile and mobile-mobile application and does not require any additional equipment. In addition to having great dependability, the transmission is also more cost-effective than the aforementioned method because it does not require the inclusion of a "servo stable" mechanism. The rate is often greater than 4M bps, which fulfills the transmission of high-quality video and audio and is suitable for high-speed data transfer.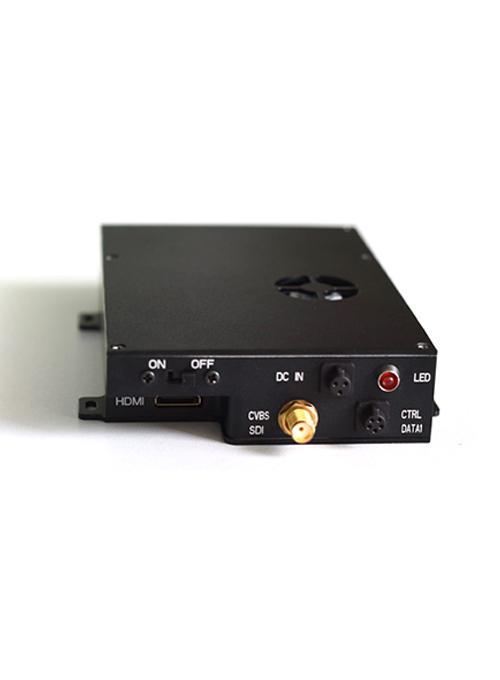 COFDM HD UAV Video Transmitter
2w 1.4G Wireless RF Communication
2W XK-F143THS transmitter is a micro HD wireless image transmission product with low latency. Based on COFDM modulation, H. 264 compression, and AES encryption, it is capable of stable, reliable, and real-time wireless HD image transmission in the environment of high-speed movement and urban building occlusion. It can be widely used in army, public security, armed police, fire protection, water conservancy, electric power, maritime, customs, radio and television industries, the collocation with unmanned aerial vehicle (UAV) is one of the most popular application at present.
2W XK-f143ths FEATURES
Non-line-of-sight transmission, long transmission distance, and strong anti-interference capability.
HD image transmission, the highest support 1080p60.
Low transmission delay.
AES encryption for transmission security and reliability.
Good RF index, high signal-to-noise ratio, and small stray.
Transmission frequency and bandwidth are adjustable.
Wide input voltage range, support DC8V~DC25V voltage input.
Small size.
Low power consumption.
---
Technical Parameters
Item
Parameter
Input voltage
DC8V~DC25V, standard input DC12V
Overall power consumption
≤18W @ 33dBm(2W)
Modulation
COFDM
Constellation
QPSK,16QAM,64QAM
Carrier mode
2K
FEC
1/2,2/3,3/4,5/6,7/8
GUI
1/32,1/16,1/8,1/4
Tx frequency
1421-1453 MHz
RBW 40MHz @ 33dBm(2W)
RF bandwidth
2/3/4 /6 /7 /8MHz
Output power
33dBm(2W)
Adjustable attenuator
0~31.5dB
Video Source
HDMI, SDI
Resolution
1080p60,1080p50,1080p30,1080p25,1080p24, 1080i60,1080i50,720p60,720p50,720p30,720p25,576p50,480p60,576i50,480i60.
Video bit rate
0.5~18.8Mbps
Audio bit rate
32,48,56,64,80,96,112,128,160,192,224,256,320,384Kbps
Video encode
H.264/AVC
Audio encode
MPEG-1 Audio Layer 2
Configure port
Standard RS232 level, baud rate 9600
Data port
Standard RS232 level, baud rate 1200~115200
Transmission encryption
AES128、AES256
Transmission delay (end-to-end)
About 300ms
Transmission distance
About 30~50 km @ 33dBm(2W)
Working temperature
-30℃~55℃
Storage temperature
-40℃~75℃
Transmitter size
117*78*23mm
Transmitter weight
≤241g
Controller size
≤72*70*13mm
Controller weight
≤82g
Related Products