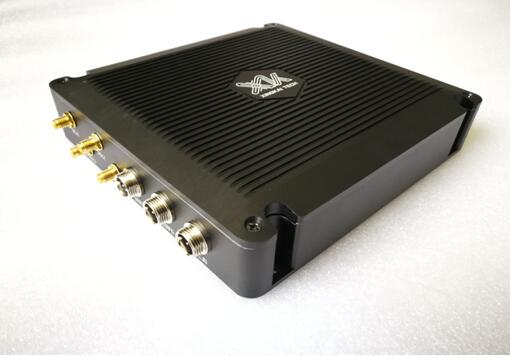 Wireless Video Transmitter
Cofdm Video Transmitter
XK-V103TDS transmitter is a micro HD wireless 4-channels Video transmission system(with two-way voice) for Fire fighting special robot.. Based on COFDM modulation, H. 264 compression and AES encryption, with multi-channel video transmission function, support up to four channels of image transmission simultaneously. It supports two-way data transmission, not only can transmit front-end information to the back-end (such as robot status, site environment information, etc.), but also can transmit back-end commands to the front-end, such as remote control of robots and transmitters. XK-V103TDS transmitter supports non line-of-sight transmission, with long distance, strong anti-interference ability, low transmission bandwidth and small transmission delay; it can be widely used in army, public security, armed police, fire protection, water conservancy, electric power, maritime, customs, radio and television industries, the collocation with UGV/USV/Vehicle is one of the most popular application at present.
XK-V103TDS FEATURES
Non-line-of-sight transmission, long transmission distance, and strong anti – interference capability.
HD image transmission, the highest support 4K.
Low transmission delay.
AES encryption for transmission security and reliability.
Good RF index, high signal-to-noise ratio, and small stray.
Transmission frequency and bandwidth are adjustable.
Wide input voltage range, support DC8V~DC25V voltage input.
Small size.
Low power consumption.
---
Technical Parameters
Item
Parameter
Specification
Power supply
Input voltage
DC12V~DC25V,standard input DC12V
Overall power consumption
≤27W @ 33dBm(2W)
Digital baseband
Modulation
COFDM
Constellation
QPSK、16QAM、64QAM
Carrier mode
2K
FEC
1/2、2/3、3/4、5/6、7/8
GUI
1/32、1/16、1/8、1/4
RF
Tx frequency
300MHz~850MHz customizable, step 1MHz; other Fre customizable;RBW 40MHz @ 33dBm(2W)
RF bandwidth
2MHz、3MHz、4MHz、6MHz、7MHz、8MHz
Output power
33dBm(2W)
Adjustable attenuator
0~31.5dB
A/V
Video source
SDI×4
Resolution
1080p60、1080p50、1080p30、1080p25、720p60、720p50。
Video bit rate
0.5~18.8Mbps
Audio bit rate
32、48、56、64、80、96、112、128、160、192、224、256、320、384Kbps
Video encode
H.264/AVC
Audio encode
MPEG-1 Audio Layer 2
Serial port
Configure RS232
Transmitter parameter configuration,baud rate 9600。
RS232
3 channels,Standard RS232 level, baud rate 1200~115200,8,N,1
RS485
2 channels,Standard RS485 level,baud rate 1200~115200,8,N,1
Transmission encryption
AES128、AES256
Transmission delay (end-to-end)
About 300ms
Data delay (end-to-end)
About 24ms(115200,60Byte)
Transmitter remote configuration
Frequency, bandwidth, picture mode
Transmission distance
Ground~Ground
2-5km @ 33dBm(2W)
Sky~Ground
20-50km @ 33dBm(2W)
Temperature range
Working temperature
-30℃~60℃
Storage temperature
-40℃~75℃
Physical specification
Transmitter size
170*162*40mm
Transmitter weight
≤1000g
Controller size
≤70*72*13mm
Controller weight
≤84g
Related Products