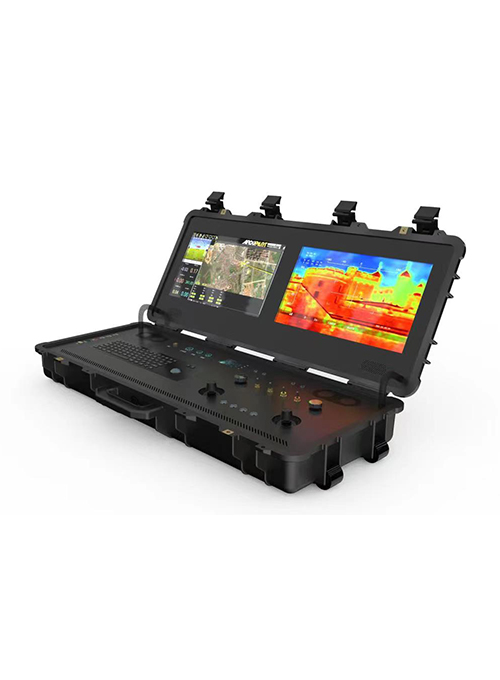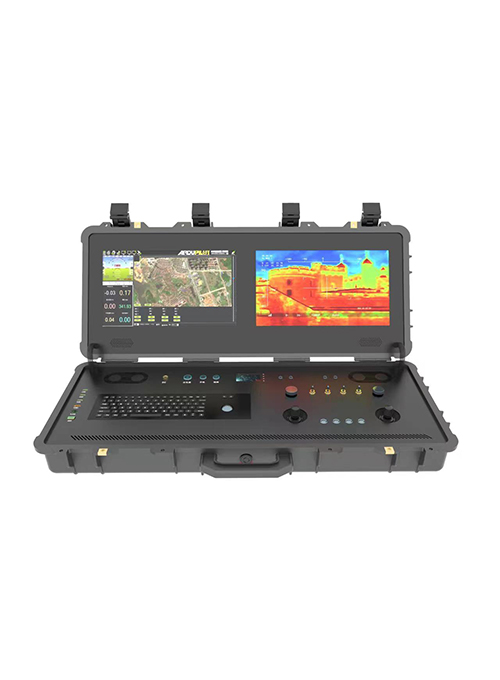 Dual Screen RC Video UAV Control System
Ground controller
XK-F203 is a dual screen portable ground control station with a rugged ground computer, integrated industrial grade PC system, and data link remote control system.
XK-F203 provides functions such as mission planning, attitude control, payload control, remote monitoring, real-time video display, etc.
The off-the-shelf portable ground control station (GCS) is a flexible and universal solution for controlling unmanned vehicles and payloads.
External Interfaces Adaptive Flight Display
High-definition (1080p) displays
Inspired Hands on Throttle and Stick (HOTAS)
Supports high-definition video
Electronic Checklists
Navigation Charts
Payload Imagery Display
Tactical Situation Display
Integrated Comms System
Common Center Display
Payload Operator Hand Controller
Upgraded Intercom/Radio System
Network TCP/IP Data and Video Dissemination
Flight Planning
Mission Planning & Management
Common Operating Picture
Data Dissemination & Analysis
Communications
Network Connectivity
Data Links
---
TECHNICAL PARAMETER
| Item | Parameter |
| --- | --- |
| Box Type | Military three-proof safety box |
| Overall Dimensions | 968MM(L)*406MM(W)*155MM(H) |
| Weight | 20KG |
| Shell material | PVC |
| IP rating | IP67 |
| Working Temperature | -20℃~60℃ |
| Colour | Military green |
| Portable Features | Built-in pull rod, external lifting cover |
| Battery and endurance | 4 hours |
OPERATION PANEL
| Item | Parameter |
| --- | --- |
| Panel material | 3K Carbon fiber plate |
| Interface support | USB*3 、RS232*1、DC IN、HDMI、RJ45 |
| Feeder and interface | N、SMA |
| Human-computer interaction | Industrial mouse button suit |
| Audio input/output | Microphone, speaker |
| Antenna interface | antenna interface of the radio link |
| Switch parameters | Main power supply, power on key, link power supply |
| Others | Industrial cooling fan |
INDUSTRIAL CONTROL HOST
| Item | Parameter |
| --- | --- |
| Processor | I5 6500T |
| Operating system | Windows10 |
| Memory | 8G |
| Hard disk | 256G |
| I/O Interface | USB、Network port、Serial port、HDMI |
| Audio input/output | Microphone, speaker |
| Others | Reserved antenna interface for panel |
LEFT AND RIGHT DUAL DISPLAY
| Item | Parameter |
| --- | --- |
| Dimensions | 17.3 inches |
| Resolution ratio | 1920*1080 |
| Screen scale | 16:9 |
| Backlight type | LED |
| Maximum brightness | 1000nit(Automatic induction regulation) |
| Input interface | HDMI |
REMOTE LEVER AND BUTTON FUNCTIONS
| Item | Parameter |
| --- | --- |
| Joysticks | *2 Industrial joysticks with Hall's sensors |
| Paddle | *4 |
| Knob | *2 |
| Push-button | *4 |
| Communication protocol | USB HID External settings |
BATTERY & POWER
| Item | Parameter |
| --- | --- |
| Display contents | Current-voltage, current, current residual capacity, power, etc |
| Management system protection | Overcurrent protection, overvoltage protection, low voltage protection, overcapacity protection, Over power protection |
| Battery protection | Overcurrent protection, over temperature protection, overvoltage protection, and low voltage protection |
| Endurance | 4 hours |