What is a Thermal Camera?
Thermal imaging is the process of employing a thermal camera to collect and produce an image of an object using the infrared light that the object emits. The temperature of the object is depicted in the produced image. The military was the initial user of the thermal imaging camera's underlying technology. However, the history of thermography, which dates back to Sir William Herschel's discovery of infrared light in 1960, is connected to the development of the thermal camera.
Working of thermal camera
You can use thermal imaging to see an object's internal heat radiation. The temperature of various things in the picture is essentially recorded by thermal cameras, which then assign each temperature a shade of color. This allows you to observe how much heat one object is radiating in comparison to objects nearby.
Different intensities of infrared light are recognized and captured by thermal cameras to determine temperature. Although this light is not visible to the unaided eye, if the intensity is high enough, it can be felt as heat. Infrared radiation is emitted by all things and is one of the ways heat is transmitted. A thing emits more infrared radiation the hotter it is. This radiation may be seen by thermal cameras, which can then turn it into an image for us to see with our eyes.
Use of Thermal Imaging Camera
Thermal cameras, which were initially created for surveillance and military operations, are now widely used for a variety of purposes, including building inspections (moisture, insulation, roofing, etc.), firefighting, autonomous vehicles and automatic braking, skin temperature screening, industrial inspections, scientific research, and many others.
xingkai gimbal system for thermal camera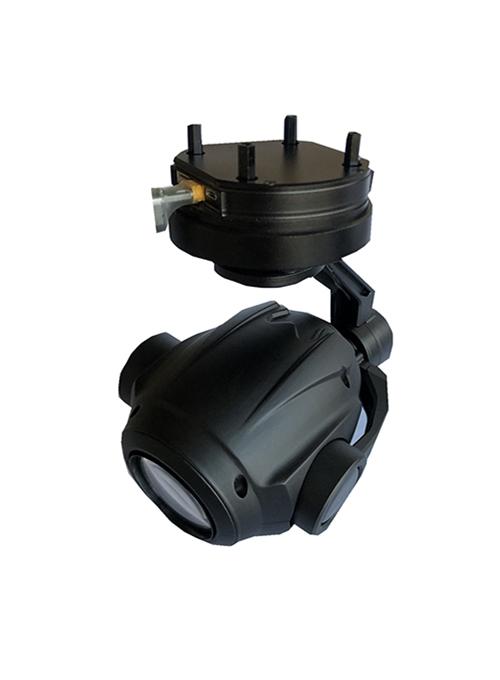 Xk-F412rs
10x gimbal / Thermal Imaging System
Xk-F412rs is a 10x optical zoom gimbal camera integrating a thermal camera and a high-precision 3-axis stabilizing system with an IP network. It adopts a high-precision FOC control method, having advantages such as high stability, small volume, small weight, and strong function. The daylight sensor has 4M effective pixels and can work under low light levels. The thermal sensor uses a 320*240 resolution, block slice design.
Xk-F412rs FEATURES
10x optical zoom +thermal
Thermal pseudo color switch
RTSP IP video output
3 axis FOC Gimbal
UART or IP network control
OSD menu setting
Single TF, two video record
---
Technical Spec
| Item | Parameter |
| --- | --- |
| Power Supply | 3S or 6S(DC12V-26V) |
| Power Consumption | About 9W |
| Roll angel | -120~+120° |
| Pitch angel | -45°~ +135° |
| Yaw angel | 360° |
| Jitter Angle | Pitch Direction ±0.02°; Horizontal Direction ±0.03° |
| Gimbal function | One-click restore to the initial position, support angel and speed control |
| Wireless link | Frequency 800MHz,default bandwidth 20M (can set 5M,10M) |
| Transmitting power &distance | 25dBm 10KM distance |
| Transmitter mode | Bidirectional transmission, video, and data in one link |
| Control mode | IP directly control(UART control option) |
| Feature | Ground system PIP display, pseudo color switch, temperature measure |
| Sensor | 1/3 4M Pixels CMOS sensor |
| Zoom | 10x optical zoom, f= 4.9to49 mm ±5% |
| AF Time | Support quick autofocus, timelapse< 1 sec |
| Video Output | RTSP 1080P 30fps IP output, Local TF record |
| FOV D | WIDE 66.6º±5% TELE 7.2º±5% |
| FOV H | WIDE 53.2º±5% TELE 5.3º±5% |
| FOV V | WIDE 39.8º±5% TELE 4.2º±5% |
| Mode | 1080P 30fps |
| Resolution | 320*240 pixel |
| Pix Spacing | 12μm |
| Type | Uncooled Micro Bolometer IR FPA Fabrication |
| Wavelength | 8~14μm |
| NETD | ≤65mk@30℃ |
| Field Angle | 6.5mm Lens; Angle: 36.4×24.2 |
| Measurement | Center point, highest temperature, over-temperature alert |
| Device Size | 145mm*110mm*145mm |
| Work Condition | -10℃ to +45℃ / 20% to 80% RH |
| Storage Condition | -20℃ to +60℃ / 20% to 95% RH |
| Function | Aerial photograph |
| Weight | 580±20 g |
Related Products